Sunshine and Pinstripes

May 18, 2015
The Power of Pin Stripes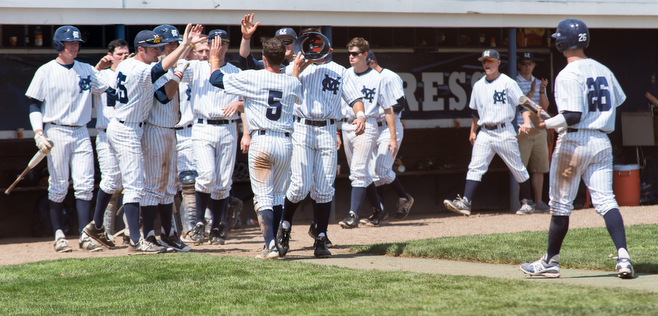 As another season comes to an end for the winningest program in all of Division 3 college baseball, it's hard not to reflect on what might have been and lose sight of what is.
This past Friday The 2015 Marietta College Baseball season came to an end in the North Georgia Mountains. For the record 40th time the Etta Express got a Regional bid and for the 1st time they landed somewhere other than the Mideast Region. The South Region hosted by Piedmont College in Demorest, Ga. started on Wednesday and the Pioneers would fall in the nightcap to Birmingham Southern. They wouldn't have to look back to far to be motivated for a charge out of the losers bracket as they had just done it 5 days earlier battling back to win the OAC Tournament defeating the host team and #1 seed Heidelberg twice on the previous Saturday.
Thursdays game would put the Pioneers against the #1 seed Lynx of Rhodes College out of West Memphis, a team ranked #6 in the country and the favorite to win the South Regional. Prior to the game Rhodes coach Jeff Cleanthes said, "don't think I don't know who we're playing, they are the Yankees of Division 3 baseball and they're never the underdog, look at them over there". The Pioneers would be wearing their home white uniforms with blue pin stripes. Prior to the game my brother Chris would say, "those uniforms alone are good for at least a run in our favor". Ironically, we'd win by a run. The Pioneers would fall the following day to Emory (the eventual Regional champion) in their road Navy uniforms and another season would come to an end.
I've always said that the season hasn't started until I see the Pioneers in Pin Stripes at Don Schaly Stadium. This year I wondered if the season would ever start for me. A February home tournament was cancelled for weather, 10 days in Port Charlotte, FL. would bring promise for the home opener March 21st vs. Otterbein. Weather chased the schedule back and forth and the home opener would actually be played in Chillicothe. Another game chased away from Don Schaly Stadium followed by 7 road games and the Pin Stripes wouldn't see a home game until mid-April. An odd year to say the least, but even in a down year it's still the most exciting brand of baseball on Earth.
I hate when the season ends, the scorebook is put away and the slap of leather and the crack of the bat are left in the North Georgia Mountains. One of the most special days of the year for this broadcaster is when those Pin Stripes take the field for the first time. I already have the date marked on my calendar for 2016.