Indians, Alleys and Graveyards. Oh, My!

June 16, 2015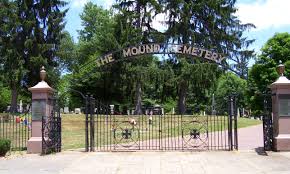 It's a great time of year here in Marietta to get lost in history. I challenge you to take a moment and sit on top of the mound at Mound Cemetery and let the winds of yesteryear take you back in time. If nothing else, it will be good physical exercise to count the steps, and good mental exercise to imagine what is in the time capsule at the top, and the earth beneath. People are traveling hundreds of miles to visit these places in our backyards, and if you can force yourself to burn a couple of mindless minutes on a weekend or a lunch hour you can understand why.
Growing up in Marietta, like most young people I was intrigued by the prospects of the big city. I was sure it wasn't all brick streets, lonely hidden alleys and "little action" on the weekends. There is indeed more to do in the big city, the cars move faster, there lies a hint of danger lurking in the shadows of the unknown, and something to do around every corner - for a price of course. Should I stay or should I go? In a moment of decision my guess is that most young people would say, "I'm bustin' this popsicle stand."
Oh sure, the brick streets make you drive a lot slower, but with blooming dogwoods, kids playing outside, folks working in their yards, and real history around every corner, why wouldn't you want to? There's a reason those alleys are lonely; so you can ride your bike down them, see the backs of people's beautiful homes and smell the lilacs. Oh, there's action in this town, around every corner, most of it is free and it's the kind of action that makes you appreciate where you grew up, and the kind that makes you savor every popsicle.
More and more of my friends who chose Columbus, Atlanta, San Francisco and Philadelphia tell me how good I have it, "back home". I couldn't agree more. My commute is seven minutes. I get the sunrise, the rivers and no rush hour.
Oh, and then there's my job. I like it a lot too. It's not the same as when I delivered papers downtown, but it's not that much different either. The faces and places have changed, that's all.
I miss the escalator at J.C. Penney. I swear the elevator lady at Dime Bank had blue hair. And a chance at a penny sundae at S. S. Kresge's was the paper route reward. (Johnny Burke the barber always tipped me). If they were still here, maybe I would see them differently, or, maybe they are still here.
Where else can you take a drive for twenty minutes and find a gravesite inscription that reads "Killed by Indians"? Certainly tragic, but probably a bit more intriguing two hundred years on. Did you know that a brother of Daniel Boone, Kentucky pioneer, was killed by Indians on the West Virginia bank of the Ohio River directly opposite Marietta? And who would have ever guessed that a peaceful picnic is as much excitement as Big Bottom Park sees 225 years after a fateful day that shook this area and marked the outbreak of four years of frontier warfare.
Mound Cemetery anyone? Trust me it's worth a walkabout. My son says, "I bet there are 46 steps to the top of the mound", as if he had a hand in putting them there. If you can't find the time during the day, I say go at night! Yes it's Illegal to go into the cemetery after dark, but test your mettle sometime. Once you concede that squirrels do sound bigger at night, you will find peace in the moonlight, get your heart rate up, and get lost in what once was here, and still is.
Scoreboard for Saturday, December 16, 2017