The Wharff Rat

July 8, 2015
What is a wharf rat? Well depending on where you're from and what you do, you'll find different variations. Wharf Rat is a cool pub in the Fells Point district of Boston, it's an interesting rum concoction, a Grateful Dead tune or a not-so-welcome rodent living near the Robin Street Wharf in New Orleans. And for reasons that might be derived from one's last name, it could be a nickname for a dirty-faced kid who digs around on the riverbanks of his hometown. For a guy who grew up stealing insulators from the top of the train bridge and finding old bottles along the riverbanks, the nickname probably was more fitting than it was intended to be.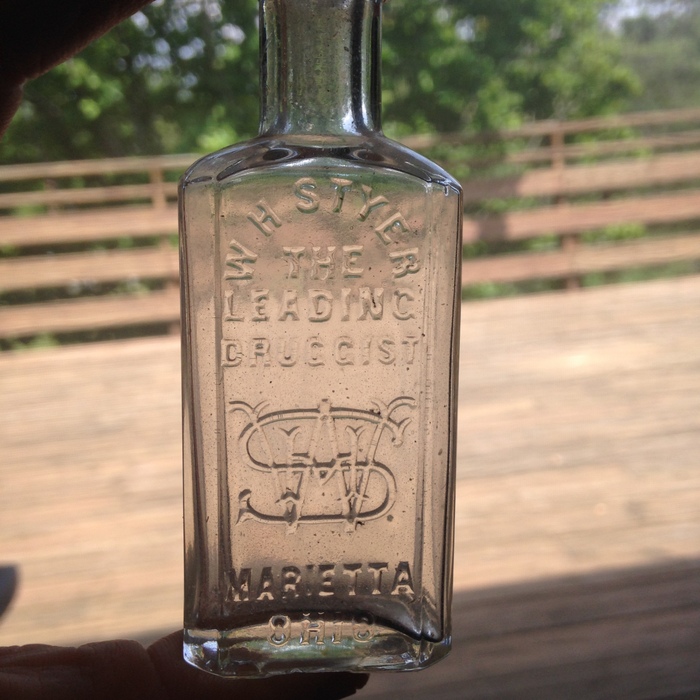 Whether it was the influence of Huck Finn or the "thrill of the find" a good part of my childhood was spent digging along the riverbanks with my trusty Buck knife. What a thrill carefully carving the dirt away from old bottles that would heed "poison", "Marietta Brewing Co. 1942", or my personal favorite a corked bottle depicting Marietta's 'Leading Druggist'. The thrill of the find was probably more valuable than the find itself, but it sure beat burning ants with a magnifying glass.
Within a 25 mile radius of Marietta there are five covered bridges, four rivers, a natural bridge, caves and miles of marked trails, and that's only the stuff I've found! Whether it's arrowheads in Wayne National Forest, kayaking the Little Muskingum or waiting for the guy with the metal detector to pull out his little shovel at Camp Tupper, there are little treasures everywhere.
As for those rivers. . . Do you know the difference between a river and a creek? Well I've heard that any flowing body of water less than one hundred miles in length is a creek (i.e. Duck Creek) anything over is a river (i.e. Little Muskingum) otherwise they look the same, fish the same, and taste the same. (just kidding on that last one.)

Then there is the Train Bridge. . . That's what we call it, but how many of us have ever seen a train cross it? You couldn't pay me to climb up on those trestles now, but way back when, it was a race to the top and two feet of walking space was like a city street. Whether Captain Jim Sands worked it into his riverboat repertoire or just wanted to be able to identify us if we fell, he'd mention us by name when he went under the bridge with a full boat of intrigued onlookers. He often spotted us on the Waverly Road rope swing as well, and we'd save our best flips for the spotlight. We assumed this is what all kids were doing and it's hard to imagine that some might go a lifetime without seeing a river, let alone appreciate it. There's also the time we found a fire hydrant wrench on the riverbank, but we'll not dredge those not-so-fond memories up.
Those rivers have a way of stirring the passions of the young at heart, and bringing beauty to a stormy day. For now a walk to Harmar is plenty close enough to the top of the train bridge, and the drive to work is always the long way around. There's something to be said about that early morning fog rolling off the water to start the day, and the sun dropping into the confluence to call it a night. It's all good, as long as you don't get too close the edge . . . or encounter any wharf rats along the way.