Home > About Us > Staff > Laura Bays

Laura Bays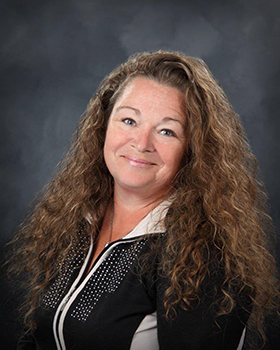 Luckily for me, I was raised right here in Marietta.
YMCA pre-school, North Hills K-4, Washington Elem 5-6, MJS 7-9 and 1 of 342 graduating seniors in 1983 from MHS.
M MA MAR MARI MARIE MARIET MARIETT MARIETTA
You say Marietta, I say Tigers.
You say Orange, I say Black
You say #, I say 1
Hail our alma mater, Marietta high. Honor do we give thee, never let it die. Memories never forgotten, friendships strong and true. We will ever sing thy praises, honor give to you.
Ta-da! If you graduated from MHS, I KNOW you sang along.
Raised by parents who were both in the health care field, and with my dad owning a local business in Marietta, he has always been the driving force in my great belief that you should always shop local. Plus, both parents were heavily involved in civic organizations which developed my strong desire to give of myself.
Whether volunteering at Gospel Mission, a live remote from the Veterans Memorial dedication, or a weekly show inside the Jonesy and Bays Morning Show that showcases our wealth of locally owned businesses, I love our little hamlet and am proud to be a part of the best little river city in the U.S.
But wait, you may be saying: Hasn't she worked for the Wharff's before? Yes, yes I have, 20 years ago.
Big John Wharff hired me as a weekend DJ, then a sales rep. for WMOA where I created, sold, wrote, produced, edited and hosted 2 weekly shows - the Apex Feed, Seed, Fertilizer, Nuts and Bolts Show (yep! still running to this day!) and Around the Track, highlighting local dirt track racers.
For a short time, I was the station manager at WJAW in McConnelsville..
After two brief stints in other radio markets, I left the work force to raise my extraordinary daughters, Emmy-18, Maddie-16 and Lyndee-12. They are my GREATEST ACHIEVEMENTS.
I have lived ALL OVER this beautiful country of ours, but, when i was ready to be stationary I came back to the MOV, my mecca, my home.
I do hold a Bachelors degree from Ohio University in Communication, class of 1988 and have all but 8 hrs of my Masters in Broadcast. Sadly, money ran out before my stamina, but, during my last summer at OU I had the awesome opportunity to host the morning show on ACRN, the campus station. I used the name Veralyn on air, after the very famous female British broadcaster, and called my show Veralyns Homemade Breakfast Jam! Thus started my on air love affair.
M-F 6a-10a you will find me being Lewis to Jonesy's Martin. Any other time, you'll find me at various events, charities, festivals and parades through-out Washington County. I'm the crazy one with the long, curly rock-n-roll hair.
I work for YOU, so, please, always feel free to contact me. I love doing Emcee duties too, Have sound system...will travel.
Remember, LOCAL is always best, no matter what you're talking about.
Yours truly,
Laura
Scoreboard for Friday, December 15, 2017